✦ Reactjs


Development Company

Web-based applications are also known as web apps. Web applications are an essential part of today's business marketing. Most leading businesses prefer to have their web applications instead of a webpage. We at Syoft offer various web application development services for various industries
24+
SaaS Platforms Built
233+
Projects Completed Successfully
440+
Global Business Consultations
186+
IOS, Android & Hybrid Apps
19
Countries Clients Served
98.3%
Projects delivered on-time
Case Studies
Few of Our
Recent Works
Eazyrooms
SaaS Platform for Hotels
Eazyrooms is the best hotel management software that helps hotels enhance their guest experience. We delivered them a robust seamless Mobile and web application solutions.
Ontario Homeopaths
We build a Responsive Website for Homeopathic Practitioners
Registered Ontario Homeopaths mission is to promote, represent, and support professional homeopaths.
Pobyt
Book Short Stays Hotel
Pobyt is a hotel booking platform that enables you to book flexible-length stays at luxury hotels. We build a remarkable app and web application that meet the core needs.
Zepul™️
Recruiting Platform to Easily Source, Recruit, Manage & Hire
Zepul™️ aims to quickly, effectively, and economically link organizations with the right candidates and vice versa in order to facilitate and streamline the recruiting ecosystem.
Pick My Food
Food Ordering Platform
PickMyFood' your choice and convenience. We helped Pickmyfood with a web application where customers can order food items.
Blue Bliss
Overseas Education & Migration Services
Blue Bliss Overseas Consultants is the one-stop solution for all international education & migration requirements. We helped them to launch a website and engage a Global audience.
Hotel Sindoori
Hospitality Services
We helped them to build a website application to make easy Bookings & Orders.
Worke
CRM For Small Businesses
Worke is an integrated intelligent platform that consolidates and streamlines all your business operations crafted cleverly for small and medium businesses.
Accelerate Your Next Big Ideas with
Syoft
Top-rated software
development company
200+

projects delivered
remotely

92%

of a team senior &
middle engineers

20%

employee turnover
rate

9/10

customer satisfaction
score
Reactjs
Development Services
Our Reactjs Development Expertise
Syoft builds scalable, feature-rich, Reactjs-based solutions that will boost your business's success in the current market. By utilizing the open-source Reactjs framework, we can create quick and iterative user interfaces.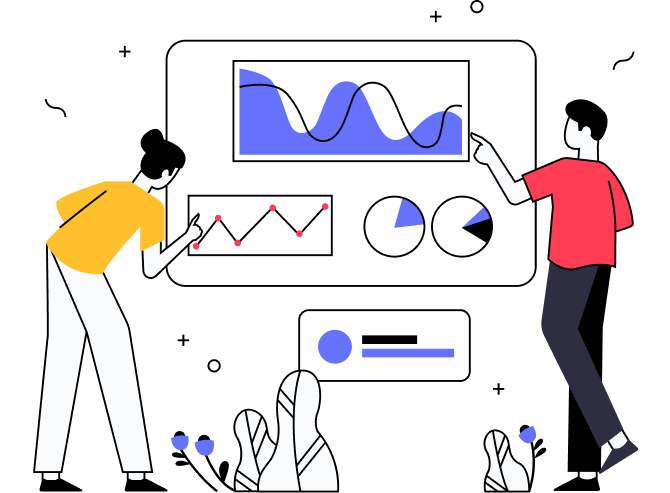 We're a young, innovative company based in (city) that specializes in providing top-notch web application development services. Customizable and Scalable - Syoft offers Reactjs web app development and design services which can be customized to meet any need or goal
With Web App Design UI/UX, we'll bring your vision to life with slick graphics and a clean layout and make it super simple to edit and update as your needs change. One Name to Trust - Syoft provides professional service, responsive customer service, and always delivers on time and budget
We're experts in building web apps using Reactjs. We provide consultation services, from helping you decide if Reactjs is right for your project to helping you implement it correctly. Let our team of experts provide Reactjs consulting services to ensure you have an amazing experience with the newest web app technology
We provide migration services from other frameworks like angular or vue, as well as maintenance services for existing apps. We understand that every project is different, so we customize our services based on your needs. Whether you need assistance migrating from one framework to another or want someone to check over your code before it goes live, we've got you covered
Reactjs
Development Process
We have a clear beginning and end so that you always know your project's stage. And because we have a set timeline for each step, you don't have to worry about us getting bogged down
Advantages of Developing Applications in
Reactjs
Reactjs is a popular JavaScript library for building user interfaces and web applications. Developing web applications on Reactjs has many benefits
1
React is easy to learn
You can start using React without much learning curve if you know JavaScript. Even if you don't know JavaScript, the React documentation is very well-written and easy to follow. It's easy to learn, and plenty of resources are available to help you get started. Reactjs is also popular for web developers
2
React is fast
React uses a virtual DOM, making it fast when rendering large data lists or complex user interfaces.It's easy to learn, and plenty of resources are available to help you get started. Reactjs is also popular for web developers.It is quite flexible and easy to use. You can create reusable UI components with Reactjs.
3
Scalable
React is scalable due to its modular nature. This means new features can be added easily without affecting the rest of the codebase. Additionally, since each component can be independently developed and tested, it's easier to work on large projects with many developers
4
It is quite flexible
Reactjs is a library of JavaScript that is widely used for developing web applications. It is quite flexible and easy to use. You can create reusable UI components with Reactjs. It also helps in creating dynamic and responsive user interfaces
5
Massive popularity
Reactjs is the most popular JavaScript library, with a large community of developers who can provide support and assistance.Reactjs is the most popular JavaScript library, with a large community of developers who can provide support and assistance
6
SEO-friendly websites
Regarding SEO, Reactjs websites have a few key advantages: React uses server-side rendering, which means that the initial page load is faster and more efficient. React is a JavaScript library, meaning search engines can easily index and crawl your website.
7
Rich user interface
When it comes to developing web applications, Reactjs is a popular framework. This is because Reactjs can be used to create rich user interfaces. By using a declarative programming style and self-contained components, developers can create complex UIs that are responsive and easy to use
8
Reusable components
As mentioned before, one of the advantages of React is that it lets you create reusable components. This means that your code is easy to read and maintain. It also makes your code more reliable since each element has been tested and proven to work before being used in your application
9
Unique React Hooks
When React Hooks was first released, there was a lot of debate about whether it could replace Redux. However, Hooks, a brand-new feature in React.js 16.8, enables JavaScript programmers to add states and other capabilities to function components. With this, you won't have to struggle
10
For extended HTML
You may use declarative HTML syntax right in JavaScript code, thanks to React.js. Browsers decode HTML content to render the user interface. They accomplish this by constructing DOM trees, which may then be modified using JavaScript to produce interactive user interfaces
11
Reusable components
Reactjs is a popular JavaScript library for building user interfaces and web applications. It has numerous reusable components that can be used to build complex web applications. Reactjs is also a great choice for developing mobile applications. The library has a wide range of tools and resources
12
It is easy to test
Reactjs is an open-source JS library that helps developers create user interfaces and web applications. It is easy to learn and use and provides a great way to test your web applications. When you develop your web application on Reactjs, you can take advantage of its many benefits