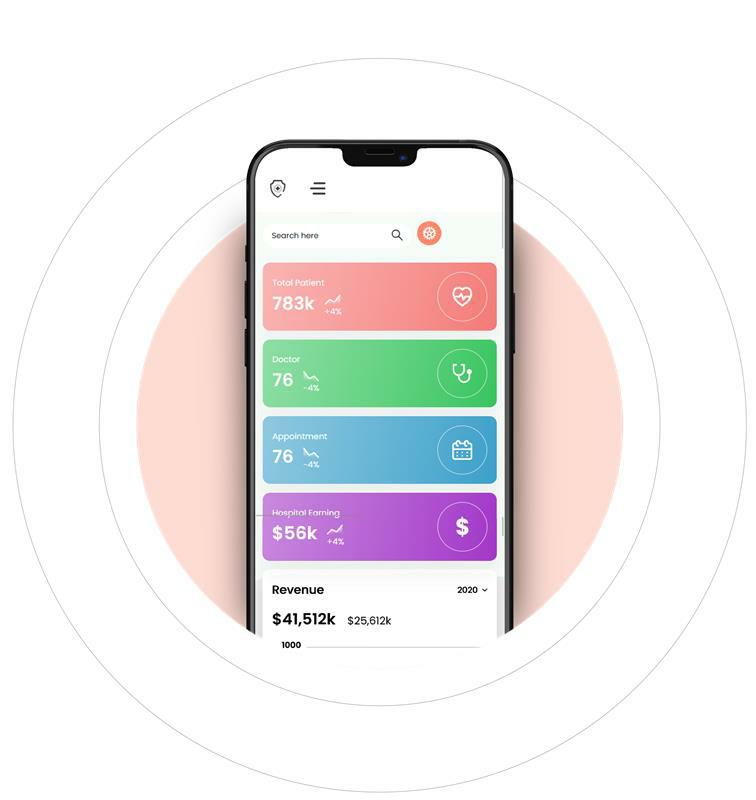 ✦ Healthcare


Development Company

The whole world is dependent on mobile and the Internet. We have many apps on mobile phones for various needs. One among those is the healthcare app. Technology is providing new ways for doctors and healthcare providers to diagnose and treat the patients using these healthcare apps. It helps in reducing errors, secure patient's data and information and manage overall care.
What is Healthcare Software Development?
Healthcare Software Development is designing and developing apps that provide medical services to patients and healthcare professionals to do their work with ease.
Many services are put together in one app to make it easy for individuals to select the appropriate service that is needed. Thus, all the necessary services are provided on time without any delay.
Get Proposal
Top features of

Healthcare Software Development
Electronic Health Record
We develop electronic health record systems that are HIPAA-compliant and prioritise usability and simple system connection with the hospital's or clinic's current system.
Prescription
As a reputable Healthcare Mobile App Development Company, we develop mobile prescribing apps to keep track of patients' information. Our apps reduce pharmaceutical errors while streamlining the monitoring of prescriptions.
Laboratory Management
We are aware of the operational difficulties a laboratory encounters. We provide specialised information management systems depending on the lab size and their areas of expertise.
Process Management
We create process management software to speed up time-consuming procedures like appointment scheduling and patient check-in.
Electronic health information exchange
We create HIPAA-compliant Top Medical and Healthcare Mobility Solutions that let anyone involved in patient care, including doctors, pharmacists, and patients, read and securely share each other's medical records.
Patient Gateway
With our apps, which are focused on giving patients full access to their health and bill-related information, we reclaim control for the patients by using APIs like the Google Health Cloud API and Apple Healthkit.
Medical Insurance Claim
We have vast expertise in building apps that directly connect customers and their insurance providers to assist users quickly and accurately retrieving information about the insurance plan, the precise benefit they can utilise, etc.
Software Integration
Our app helps integrate all the required patient records details. Thus, reducing the pharmaceutical errors that might occur while going through the prescription.
Benefits of
Healthcare Software Development to Business
Reduces Paperwork
Healthcare software reduces paperwork by fully automating the patient's information.
Management of Patient's records
This helps the healthcare workers to efficiently manage the patient's records.

Communication is enhanced
Medical software enables end-to-end communication management between patients & healthcare professionals.
Patient Contentment
A pleased patient is likely to stick with the business for the long run since it breeds loyalty and trust.
Case Studies
Few of Our
Recent Works
Eazyrooms
SaaS Platform for Hotels
Eazyrooms is the best hotel management software that helps hotels enhance their guest experience. We delivered them a robust seamless Mobile and web application solutions.
Ontario Homeopaths
We build a Responsive Website for Homeopathic Practitioners
Registered Ontario Homeopaths mission is to promote, represent, and support professional homeopaths.
Pobyt
Book Short Stays Hotel
Pobyt is a hotel booking platform that enables you to book flexible-length stays at luxury hotels. We build a remarkable app and web application that meet the core needs.
Zepul™️
Recruiting Platform to Easily Source, Recruit, Manage & Hire
Zepul™️ aims to quickly, effectively, and economically link organizations with the right candidates and vice versa in order to facilitate and streamline the recruiting ecosystem.
Pick My Food
Food Ordering Platform
PickMyFood' your choice and convenience. We helped Pickmyfood with a web application where customers can order food items.
Blue Bliss
Overseas Education & Migration Services
Blue Bliss Overseas Consultants is the one-stop solution for all international education & migration requirements. We helped them to launch a website and engage a Global audience.
Hotel Sindoori
Hospitality Services
We helped them to build a website application to make easy Bookings & Orders.
Worke
CRM For Small Businesses
Worke is an integrated intelligent platform that consolidates and streamlines all your business operations crafted cleverly for small and medium businesses.
Accelerate Your Next Big Ideas with
Syoft
Top-rated software
development company
200+

projects delivered
remotely

92%

of a team senior &
middle engineers

20%

employee turnover
rate

9/10

customer satisfaction
score